After listening to weather reports yesterday, Nancy and I figured we would be snowed in today so we decided to stock up on supplies at Walmart down in the valley. While there I stocked up on the essentials that no one should be without while snowed in... Bacon, Ice Cream, 18 extra large eggs, Milk (for the ice cream), Bread, more Bacon... etc. Once all the essentials had been hunted and gathered we decided to stop at Palatianos on the way back and grab some take out for dinner.
Palatianos really packs 'em in pretty good here in Benson, AZ. so we figured they must be pretty good. The restaurant sits on the corner across from Safeway off highway 80. The parking lot is pretty decent sized but usually pretty full too. Inside the restaurant is decorated in a truck stop diner motif. The staff is attentive and friendly.
We could not find their menu on line so we will post it here: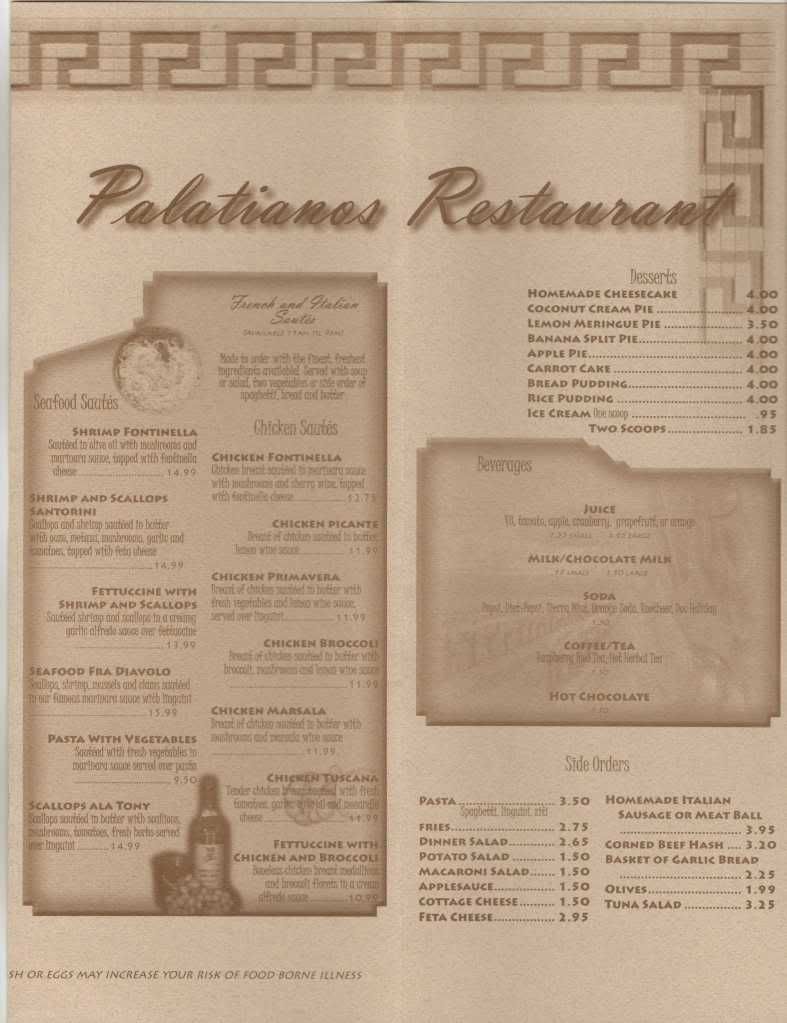 As you can see their menu provides pretty good selection and decent prices. The prices get even better once you realize how GIGANTIC the portions are. Their motto is "The restaurant that leaves the whole family satisfied" and that is for sure the truth. If you are hungry, really hungry, this is your place!
As for the food, Nancy went with the Chicken Parm and I went with the Fettuccine with Chicken and Broccoli. Both servings were, again, huge even as take out (you get even bigger servings when dining in). Nancy's Chicken Parm was a real breast filet of chicken pounded flat and breaded, served over al dente angel hair pasta covered with marinara and cheese. My Fettuccine was served with pan seared chicken medallions and broccoli in a creamy Alfredo sauce. Sounds good doesn't it? Well it was, but I wouldn't go any further than that. I would rate the food quality and taste as average. The chicken was tough and the flavor of my sauce and Nancy's was a bit washed out and bland.
Both meals came with salad and garlic bread (we asked for Blue Cheese dressing and received Ranch) but I'm not sure who could eat the full salad, bread and meal all at once.
Palatianos is a great place to take the family if they are really hungry and want food that is good, even if it is a bit bland.
Side Note: I'm not saying this is related for sure, but I ended up being up half the night with stomach issues. Nancy on the other hand was fine and slept like a baby.
Thanks for stopping by!
Have a great day!!
Noah