Hi All!
We arrived here at
Cochise Terrace RV resort
yesterday at around 2:00pm after a nice ride (breezy) from El Paso, through New Mexico into Arizona along I-10. We did get routed through one border patrol checkpoint in New Mexico, so if you will be coming through there keep your eyes open.
We were assigned a nice gravel, back-in (lot 261) with great views of the surrounding mountains.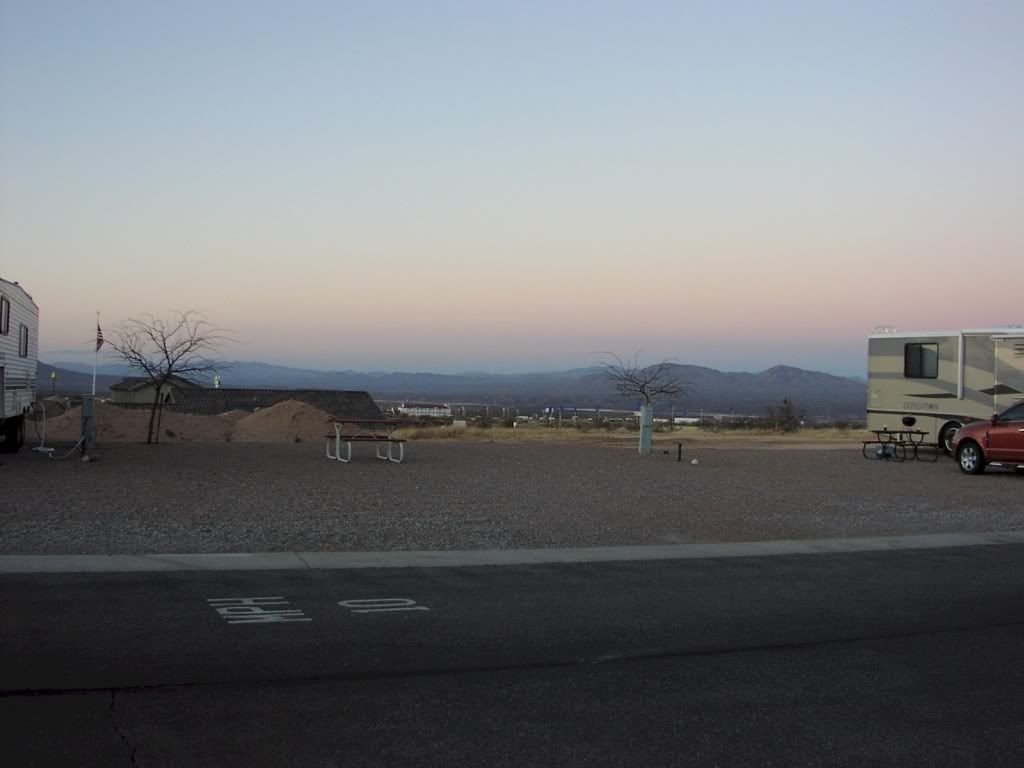 View from the front window.
View of the rising, full moon from the east side of the coach.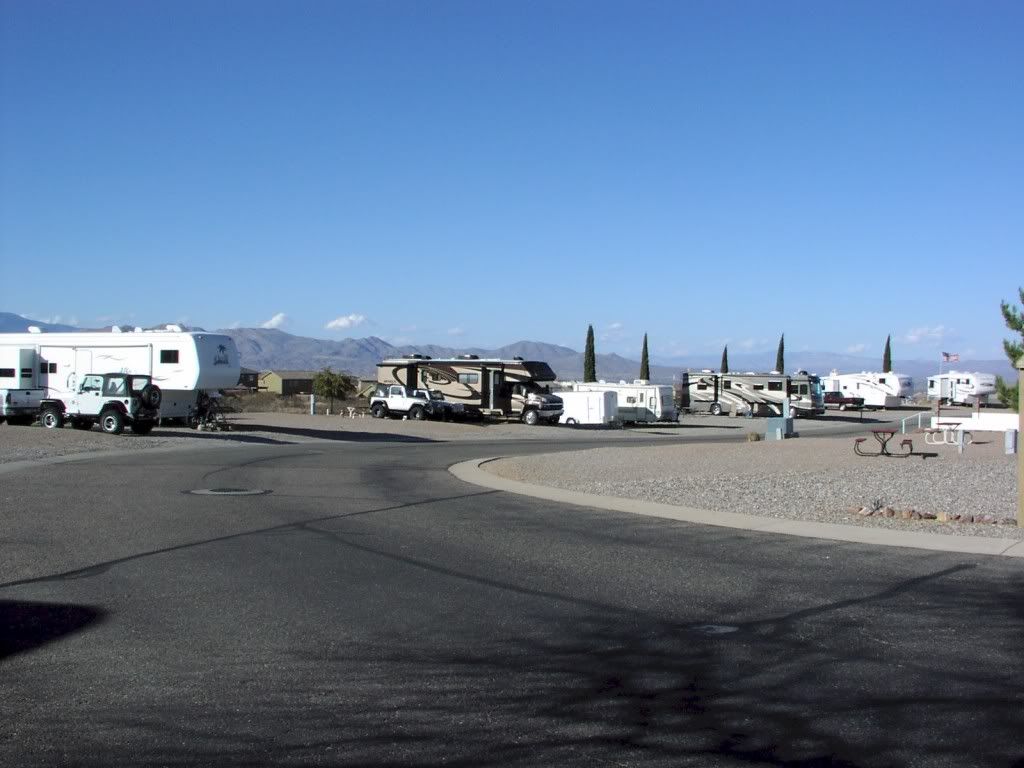 View from the end of the street we are on. Our coach would be just to the right of this shot.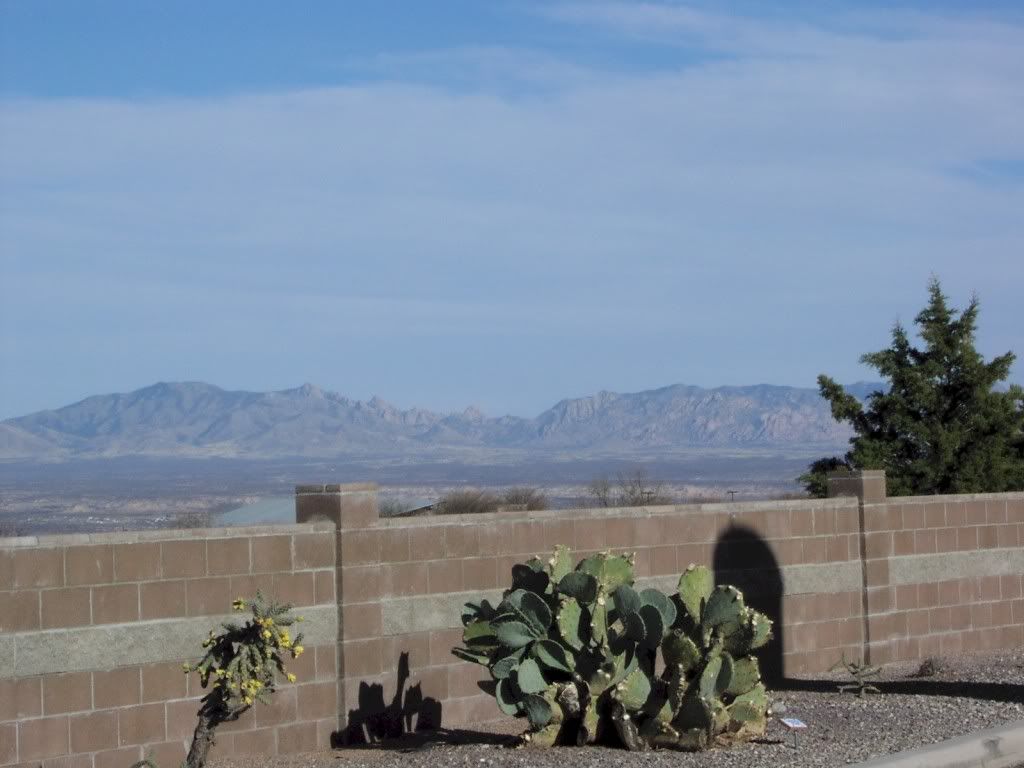 Some staghorn and prickly pear cactus with a beautiful mountain backdrop.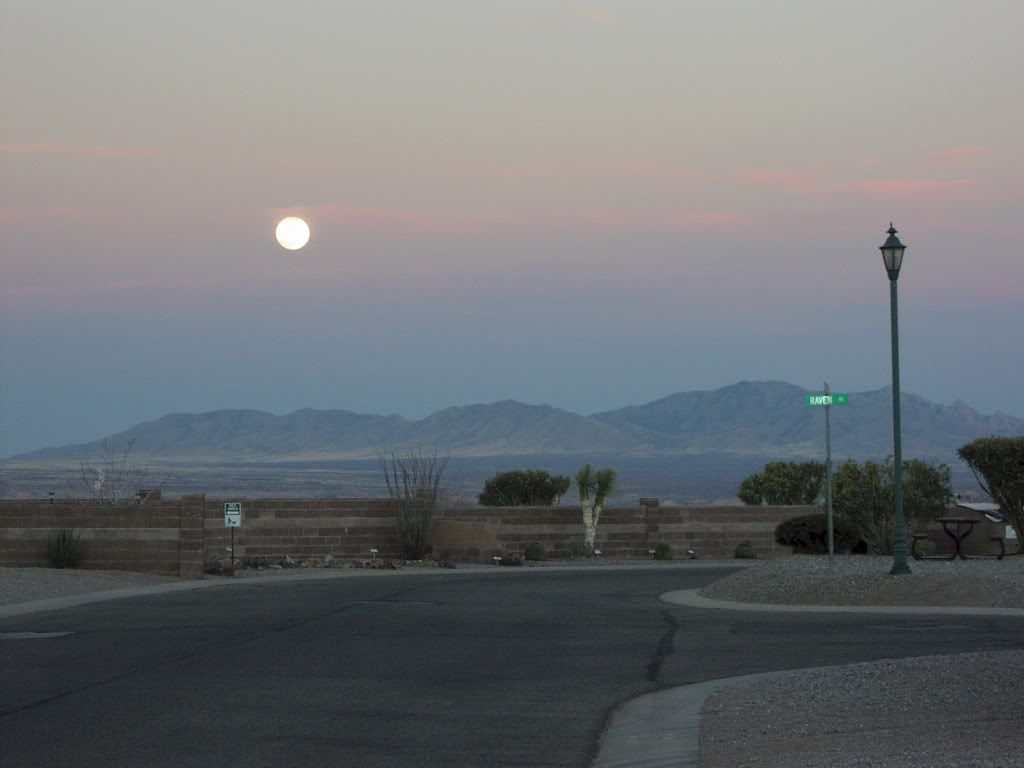 Another shot of the full moon rising.
The park is lovely, perched on a terrace high above the actual town of Benson. There is a mix of RV parking lot's as well as a section of park models for permanent residents.
The weather since we arrived has been amazing! Warm sun with nice cooling breezes. Perfect for walking around with the dogs!
Luke and Leia made two new friends today. Just down the road from us were two other greyhounds and their owners. It's funny how they instantly recognize their own breed. After a few sniffs and some excited growls they were quickly becoming "fast" friends. (Jeez, I crack myself up lol)
We plan on staying here for at least a week and checking out the surroundings, Tombstone, Kartchner, Bisbee, Cochise Stronghold, Saguaro, etc... Thursday of next week we have an appointment with FreightLiner to have our transmission fluid and filters changed out. (What happened to getting that done in El Paso? I'll get to that in a minute!)
Today we are awaiting a call from the glass repair man. We got a nice chip in the driver side windshield leaving El Paso in addition to the rest of the "fun" we had there.
Now the bad news...
We stayed in the parking lot of the FreightLiner on the border for 22 hours only to be told to attempt to get service elsewhere. We called ahead before arriving and were informed that it is first come first served. Upon arrival we were informed that they would definitely get to us today as there were only a few vehicles in front of us having PM work done. Four hours later, after unhooking the car and trailer, sitting in the mid-day sun, in a wide open parking lot, with all the slides in to be ready in case they come get us, we were informed it would only be another 2 hours. 3.5 more hours pass...
Finally after checking in one final time we are told they will not be able to get to us today. And may not be able to get to us tomorrow! We are told that we can spend the night in the parking lot, but if we want power we will have to move over to the parts department. We decided we were fine without power and to stay put. I went back the rig and put out the slides and leveled the coach a bit for comfort. The parking lot was all concrete so there would be no problem with sinking into the asphalt.
We settled in, had some dinner, walked the dogs and watched a little TV. Around 10pm we decided to hit the hay. At 10:50pm I was awakened by a knock on the door. It was the night manager telling us that we had to move to outside the parking lot! They just watched us setup finally and get comfortable hours ago and waited until 10 minutes before they were closing to tell us that we now have to leave!
Long story short, we learned that the FreightLiner on the Border in El Paso, TX is to be avoided at all costs! Michael and his staff appear to be totally incompetent. While there, I spoke with at least two other truckers who had been there for days. One was waiting for a wiper motor to be installed and the other for a wheel bearing. Both needed parts ordered, which Michael assured them were in stock when they weren't, then he assured them that they were ordered and they weren't. I would like to say that they simply didn't treat RV's well but it appears that they don't even treat the truckers well, so I'm forced to chalk it up to incompetence.
It's only a few hundred more miles to FreightLiner of Tucson and, although we have not had the service yet, being able to at least get an appointment and not a run around is a step in the right direction!
Be good everybody! And watch out for Freightliner on the Border in El Paso!!!