Just a few short miles past historic downtown Bisbee, out past the Lavender Mine on Highway 92 (across the street from Safeway) lives the hot dog mecca of the southwest, Jimmy's Hot Dog Company. You'll probably recognize it by the 12 foot high weenie on the roof, if not, the mustard yellow walls with ketchup red doors might catch your attention.
Walk through that ketchup colored door and you are instantly transported back to your favorite hot dog joint as a kid. The familiar smells even the vintage designed dining area all conspire to make you believe you have actually been taken back to that place. Except this place is in southern Arizona.
You can't get a decent hot dog in Arizona can you? Turns out you can do better than that! Jimmy's hot dogs are wonderful! All the hot dogs are Vienna Beef franks and I recommend getting them "Chicago Style" with mustard, onion, relish, tomato wedges, dill pickle, sport peppers and celery salt on a seeded bun.

Chicago style dog.... Ummmm, yummmy!
 Their fries are brined and then fried, skin on natural style and just full of the right amount of grease to make you feel good and guilty!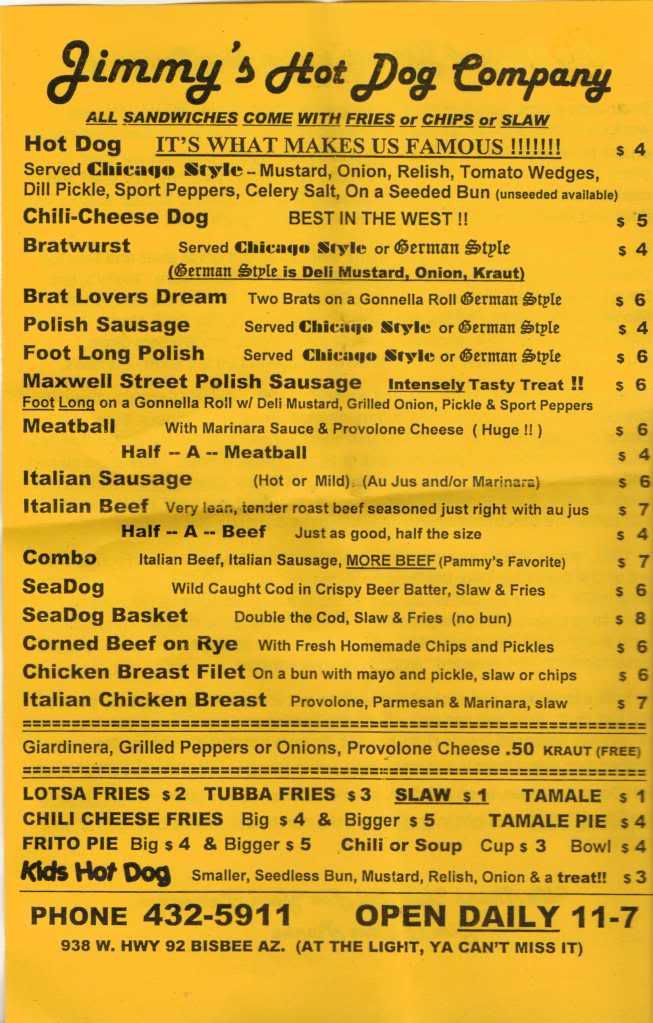 The menu is well rounded and contains more than simply hot dogs. I myself had the Maxwell Street Polish Sausage and it ate like a meal. We ate at Jimmy's around 2pm and as I sit here at 8pm I barely managed to force down a bowl of ice cream while typing up this review!
Jimmy's Hot Dog Company - a great restaurant run by great people with a great story. If you happen to find yourself in Bisbee AZ, stop on by and have a dog.