Hi! This is Nancy hijacking the blog today.
Noah was my chauffeur today - he took me to see the meteor crater near Winslow AZ. He has already seen it twice - so he drove me almost 2 hours each way so that I could see it for myself.
What a treat! I was a little saddened to hear some people leaving saying things like "It's not worth going in - it's just a big hole in the ground". I've been wanting to see this crater since I was in grade school when I first heard about it. But I didn't let their negativity bother me - I paid my $15 entry fee and went in.
There is a museum that explains the history behind the crater as well as a movie theater that shows a movie about it. They also have guided rim tours (no additional charge).
The crater is 2.4 miles in circumference and 550 feet deep. They think the meteor that formed it was about 150 feet in diameter. They have the largest chunk found (less than 2 feet wide) at the entrance to the museum.
I wanted to just stand there all day and take it all in. It was just immense! Pictures do not do it justice. You'll have to pardon my poor photography skills - I took the SLR camera (which I have absolutely no experience with) and tried my best to get some photos.
You can see indentations in the sandstone around the crater where tiny particles were blasted into the rock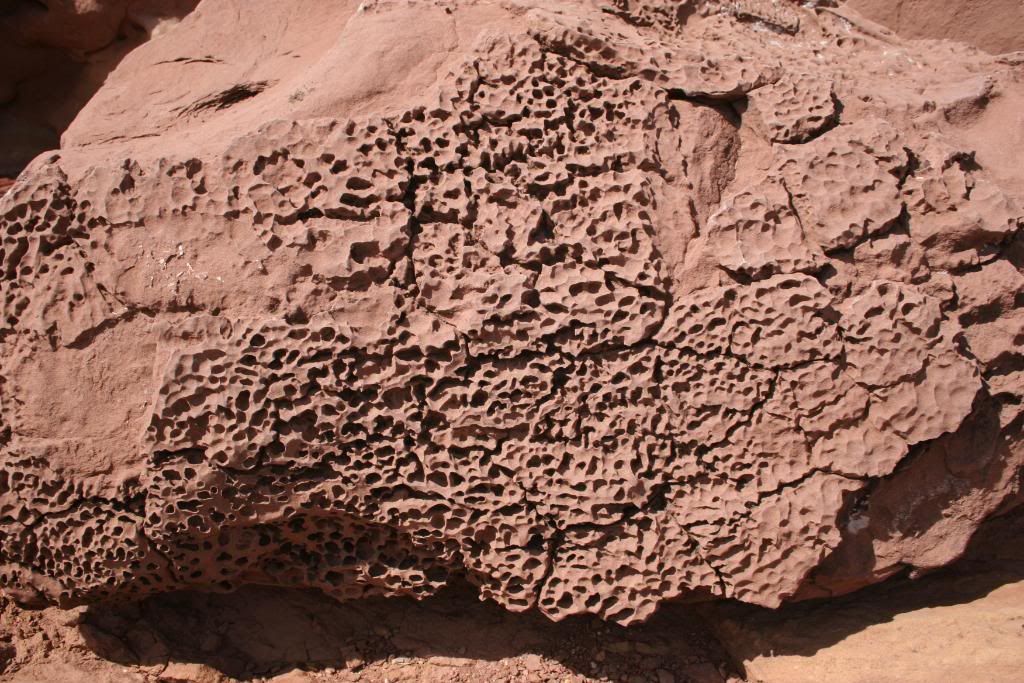 To give you an idea just how big this crater is...see the white section near the bottom?
If you look at the white section that is fenced off (the mining area) and look really closely - you'll barely see a life size astronaut figure standing next to an american flag in the lower right corner. This will give you an idea on just how massive this crater is.
Here's the view of the parking lot (RV parking is the section that is empty - so plenty of room to hold 15-20 RV's) and Flagstaff off in the distance (just below the snow capped mountain)